Veneers, Fullerton, CA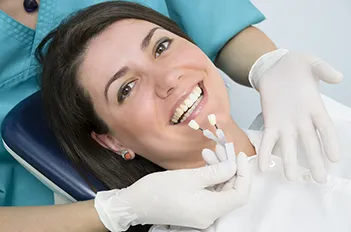 Do you want to feel more confident in your appearance? Do you believe that your smile is holding you back from that confidence? If you are dealing with a less-than-perfect smile, our Fullerton, CA, cosmetic dentists Dr. Eric Meyer, Dr. Eric Cho, and Dr. Leonard Plaitano offer the cosmetic dentistry you're looking for to completely revamp your appearance. Here's what you should know about getting dental veneers.
What are Dental Veneers and How Do They Work?
Veneers are ultra-thin cosmetic shells made from medical-grade porcelain that our Fullerton, CA, dental team will bond to the front of your teeth to hide imperfections and to reshape your smile for the better. Whether you just have a malformed or discolored tooth that is throwing off your whole smile or you want to makeover your entire smile, veneers can be the perfect way to achieve your goal. Veneers can hide a multitude of different aesthetic problems including,
Worn down or uneven teeth
Stained/discolored teeth
Cracked, chipped, and fractured teeth
Gaps between teeth
Minor crowding or crookedness
What are the Benefits of Dental Veneers?
Apart from the fact that veneers can hide all of those imperfections that make you self-conscious about your smile, veneers also offer a variety of other benefits. For one, veneers only cover the front surface of your teeth rather than encapsulating the entire tooth, which means significantly less tooth preparation (a major benefit for those who want cosmetic dentistry but who are looking for a more minimally invasive approach). Veneers can also give you a straighter smile without having to wear braces. Placing veneers could easily cover gaps between teeth and fix slightly crooked teeth without years of braces (isn't that cool?).
What to Expect When Getting Dental Veneers
It's Consultation and Tooth Prep Time!
It will take about 2-3 visits to our Fullerton, CA, practice to get your veneers. Your first visit will be your consultation, in which we will examine your smile and discuss your treatment goals to determine if veneers are right for you. If you are right for veneers, we will need to prep your teeth and take measurements. Tooth preparation is very minimal; we usually don't have to shave any more than 5mm of enamel off the front of the teeth. This will ensure that veneers look natural when placed
Crafting and Placing Your Custom Veneers
From there, impressions are taken of your teeth. Since veneers are custom-made, a dental lab will need these impressions to make veneers that fit just right. After your veneers are made you will come in so that we can check their fit and then bond them to your teeth.
Are you interested in getting dental veneers? Want to find out if this cosmetic treatment is ideal for your smile? Our dentists are proud to offer dental veneers and other leading cosmetic dentistry to their Fullerton, CA, patients. To discuss veneers with us, call (714) 879-7943 today.